The Free Capitol Hill Protest Zone Now Has A Murder
June 23, 2020, 1:21 am
Filed under:
Coronavirus
,
Crime
,
Democrat Corruption
,
Domestic Policy
,
Law
,
Police
,
Politics
,
Progressives
,
Regulation
,
Seattle WA
,
Terrorism
,
The United States
| Tags:
Capitol Hill CHOP
,
Mayor Jenny Durkan
,
Six Blocks of Terror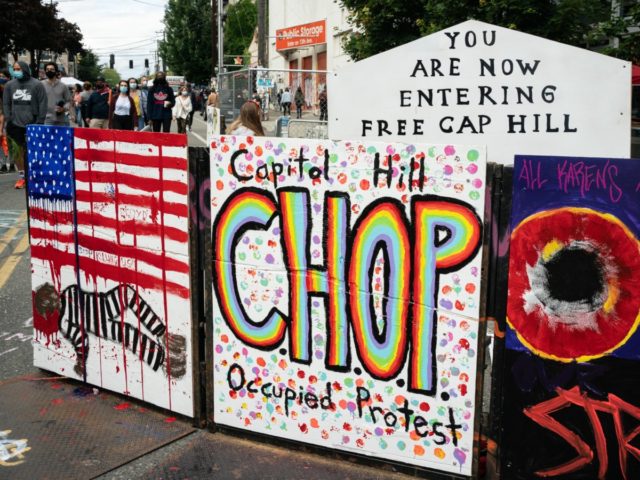 Things are heating up in CHOP-land. On Sunday night, gunshots erupted in Seattle's Capitol Hill Occupied Protest zone, less than 48 hours since an earlier shooting left one man dead and a 17 year-old male shot in the arm. Thought this was supposed to be a peaceful protest place, a "summer of love" thing. It appears that Seattle's feckless mayor Jenny Durkan will have to act in some way. But she hasn't figured out just how yet.
Perhaps our feckless governor, Jay Inslee, who has preferred to simply ignore the whole thing, will notice that it is giving his state a major black eye in the national news media.
But what to do and who will do it? Will they reclaim the East Precinct? The Police, who have been thoroughly demonized for no reason? The National Guard? That takes an order from Inslee. The neighborhood, and the six block area of homes and small shops and the residents are reported to be becoming restless. Small wonder.
I have no idea what the revolutionaries' original vision was, in seceding from the United States to become an independent six blocks, but they dug up a patch of the local park to plant seedlings for their kitchen garden. Presumably they thought it would take only a few days to produce fresh vegetables, who knows. A little long on revolutionary fervor, short on common sense or just basic information.
Nationwide, the statues keep being attacked, but the major offenders are gone, so they're down to the fringe characters like Francis Scott Key. He did write the Star Spangled Banner, but wasn't that in the War of 1812 rather than the Civil War? I'm not sure just what the objection to him is.  It was a Southern Fort with the rockets' red glare. The statue attackers are also a little long on revolutionary fervor and quite short of basic information.
If we just ignore it will it go away? Get tiresome? Fervor grow stale? I'm already sick of it all and not feeling at all charitable towards the perpetrators. Put them away for a while to cool off. It is simply posturing, virtue-signaling, but not much virtue. "Summer of Love"indeed. The police are anxious to preserve the rule of law, but the city's Democrat management simply doesn't know what to do, or how to do it.