Kenosha et al: "Fiery but Peaceful Protests"
by
The Elephant's Child
August 28, 2020, 2:19 pm
Filed under:
Bureaucracy
,
Crime
,
Democrat Corruption
,
Domestic Policy
,
Election 2020
,
Free Speech
,
Freedom
,
History
,
Media Bias
,
News
,
News the Media Doesn't Want You to Hear
,
Police
,
Politics
,
Regulation
,
Socialism
,
The United States
| Tags:
"Peaceful Protests"
,
Kenosha Wisconsin
,
Raised Fists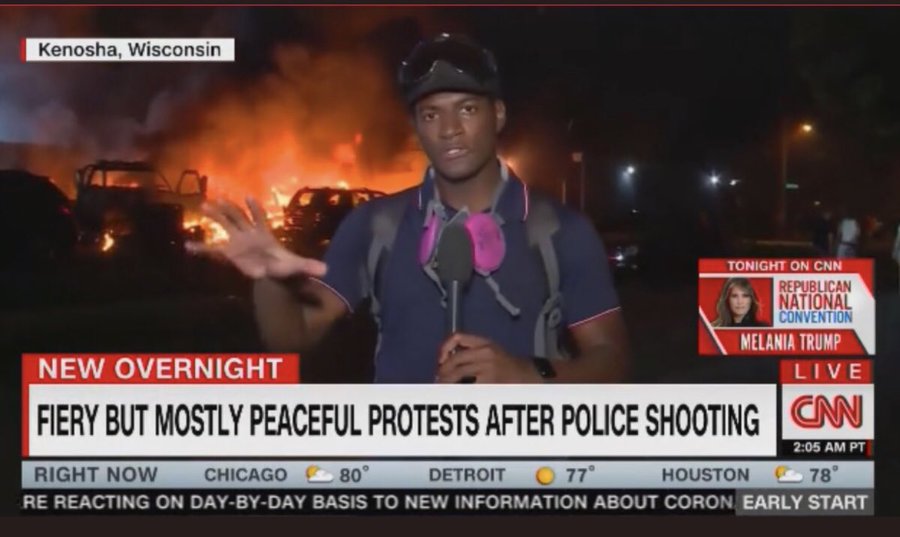 The "Peaceful Protests" continue, rioting, burning, looting, murder, destruction of property, arson. The Portland riots continue and have done so for something like
88 days (if I remember what I read correctly) and Portland's Mayor Wheeler (D) somehow just can't manage to get it under control. Now it's Kenosha, Wisconsin rioting with two dead, vast property damage. What can they possibly think that this accomplishes?
"Mostly Peaceful Protests," what idiot wrote that headline? Oh, of course it's CNN. Democrats are discovering, rather belatedly, that the riots are not popular with the vast American audience and may be even affecting the vote. Expect the peaceful protests to begin to die out, or perhaps even get back to actually being "peaceful."
President Trump is sending in federal help to get Kenosha back under control. He's not going to stand for terrorized cities out of control, and I think the American people agree with that. Did the Democrats really believe that people would actually favor this rioting and burning? Democrats are panicking a bit now, as they are realizing that the rioting could actually affect the vote.
Did you assume that "Black Lives Matter" was a plaintive shout meant to help the poor black people who were badly treated by nasty policemen? It is actually an organization founded by Marxist revolutionaries in 2013 to depict the United States as a nation awash in racism, sexism and homophobia established in response to the acquittal of the man who killed black Florida teenager Trayvon Martin. They formally depict white police as trigger-happy bigots who are intent on killing innocent, unarmed black males. Raised fists may make the fist's owners feel good, but accomplish nothing at all. Try encouraging your local library to offer homework help, make a donation to historically black colleges, donate or volunteer at a local food bank. Lots of ways to actually help instead of grandstanding.
In Columbus, Ohio, a young black teenager was celebrated very briefly for walking 3 miles every day to the public library which offered help with homework. As a graduating senior in high school, he was accepted at some 22 colleges and universities, including the one he most hoped to attend. There was more clucking over the daily three miles than recognition of the rewards for his extra efforts and what it said about his character and ambition. Shortly after, a young black woman who became the valedictorian of her class, and had an outstanding record of perfect attendance received something like $40,000 worth of scholarship money. Beats raised fists any time.