The People of Seattle Want to Recall Mayor Jenny Durkan
August 13, 2020, 11:02 pm
Filed under:
Bureaucracy
,
Crime
,
Democrat Corruption
,
Domestic Policy
,
Freedom
,
King County Washington State
,
Law
,
News
,
Politics
| Tags:
Mayor Jenny Durkan
,
Seattle City Council
,
Seattle Police Force
The people of Seattle, at least some of them, are attempting to recall Seattle Mayor Jenny Durkan. A federal judge has just allowed their effort to proceed, at which point the feckless Mayor Durkan has appealed to the State Supreme Court. HALP!! The Seattle City Council, also a feckless bunch, has defunded the Seattle Police Force by $100 million, and laid off 100 policemen, preferably black ones. Do they have no understanding of what their actions will produce?
Austin Texas has apparently followed suit, gutting their police budget by one third, in order to fund Planned Parenthood, the abortion factory. Austin leads the country in percentage increase of total homicides compared to the previous year, passing Chicago, New York and Los Angeles according to the Wall Street Journal. There are always consequences.
Conservative states are being flooded with applications from policemen in troubled states who are being defunded and disrespected and want to move.
Democrats' goal is always control, ever more complete control, but they just don't seem to have any familiarity with consequences. There are always consequences. If you push the table too hard, the glasses fall off. If you drink too much coffee you won't be able to get to sleep. Why the Seattle City Council can assume that there will be no consequences from defunding the police force and laying off 100 policemen is unfathomable, but one can be assured that one of the most notable will be dead bodies. And the responsibility for those deaths will go to the City Council. But that won't be the end of it. Many of the Seattle small businesses are not planning to reopen, but to go somewhere else where there is police protection and the police are respected.
It's not easy for small businesses to make enough money to survive and prosper. That is, after all, what our free enterprise economic system promises. If you have courage and work hard, you can succeed and perhaps even get rich. Democrats don't like that. Odd, but they are just sure that everything would work better if they just had more complete control. So there you are.
The Free Capitol Hill Protest Zone Now Has A Murder
June 23, 2020, 1:21 am
Filed under:
Coronavirus
,
Crime
,
Democrat Corruption
,
Domestic Policy
,
Law
,
Police
,
Politics
,
Progressives
,
Regulation
,
Seattle WA
,
Terrorism
,
The United States
| Tags:
Capitol Hill CHOP
,
Mayor Jenny Durkan
,
Six Blocks of Terror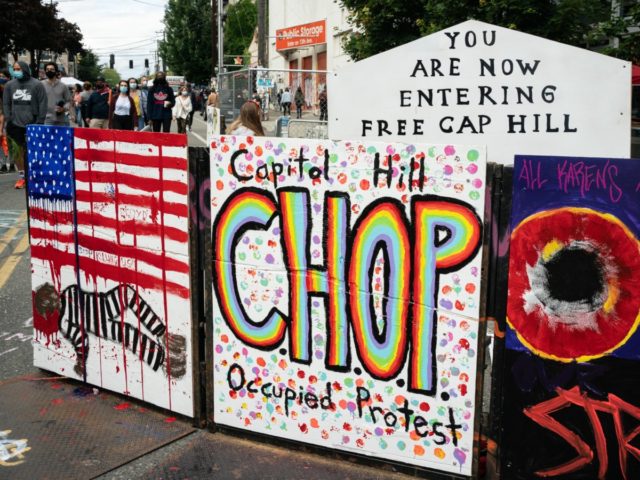 Things are heating up in CHOP-land. On Sunday night, gunshots erupted in Seattle's Capitol Hill Occupied Protest zone, less than 48 hours since an earlier shooting left one man dead and a 17 year-old male shot in the arm. Thought this was supposed to be a peaceful protest place, a "summer of love" thing. It appears that Seattle's feckless mayor Jenny Durkan will have to act in some way. But she hasn't figured out just how yet.
Perhaps our feckless governor, Jay Inslee, who has preferred to simply ignore the whole thing, will notice that it is giving his state a major black eye in the national news media.
But what to do and who will do it? Will they reclaim the East Precinct? The Police, who have been thoroughly demonized for no reason? The National Guard? That takes an order from Inslee. The neighborhood, and the six block area of homes and small shops and the residents are reported to be becoming restless. Small wonder.
I have no idea what the revolutionaries' original vision was, in seceding from the United States to become an independent six blocks, but they dug up a patch of the local park to plant seedlings for their kitchen garden. Presumably they thought it would take only a few days to produce fresh vegetables, who knows. A little long on revolutionary fervor, short on common sense or just basic information.
Nationwide, the statues keep being attacked, but the major offenders are gone, so they're down to the fringe characters like Francis Scott Key. He did write the Star Spangled Banner, but wasn't that in the War of 1812 rather than the Civil War? I'm not sure just what the objection to him is.  It was a Southern Fort with the rockets' red glare. The statue attackers are also a little long on revolutionary fervor and quite short of basic information.
If we just ignore it will it go away? Get tiresome? Fervor grow stale? I'm already sick of it all and not feeling at all charitable towards the perpetrators. Put them away for a while to cool off. It is simply posturing, virtue-signaling, but not much virtue. "Summer of Love"indeed. The police are anxious to preserve the rule of law, but the city's Democrat management simply doesn't know what to do, or how to do it.