Well shucks, we missed another investment opportunity!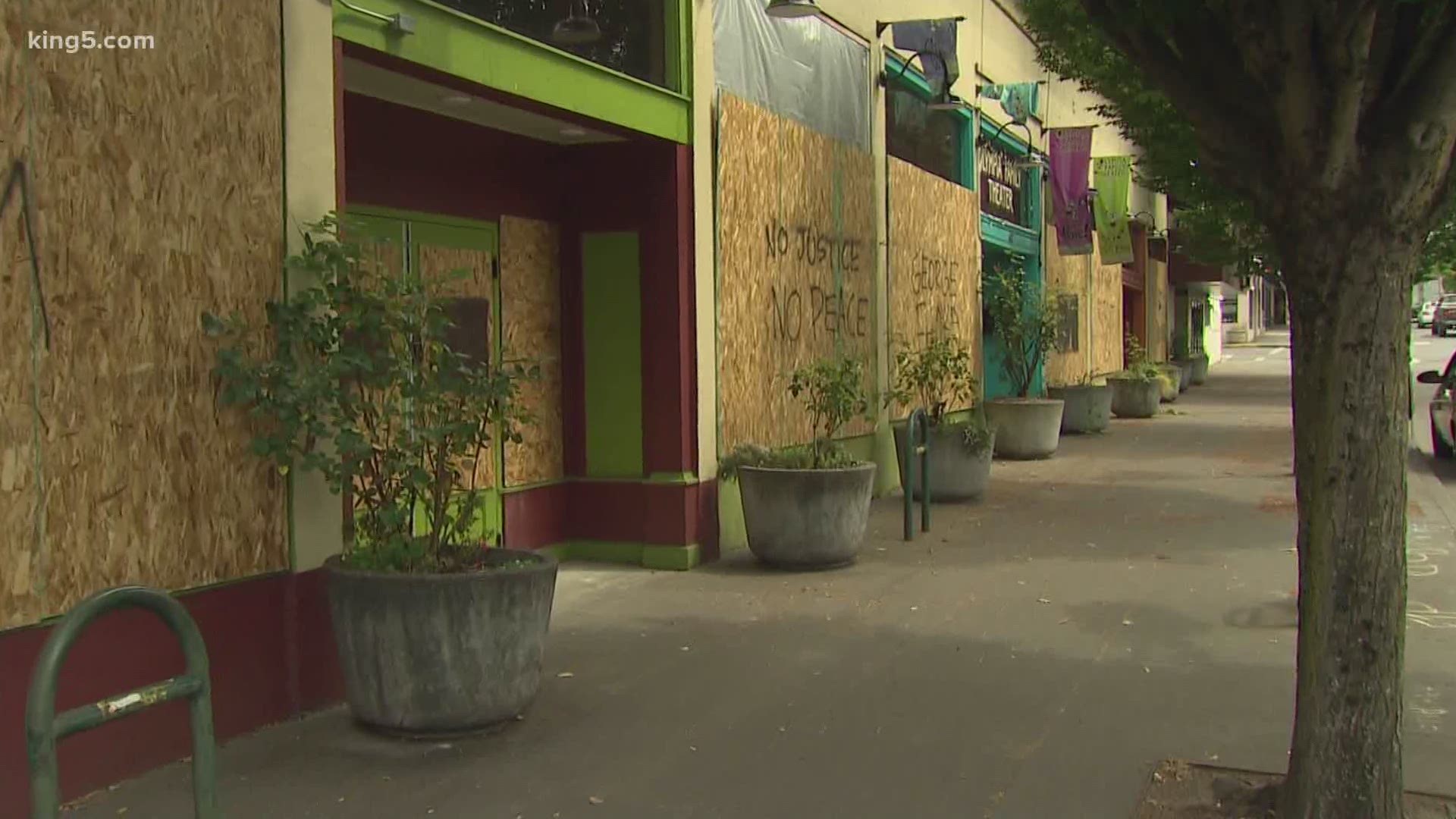 First time we saw the plywood going up, we should have called our brokers to ask who was the biggest mill turning out one-ply sheets of plywood! And they are still putting up more because they expect more riots and protests when the election results come out.
If you're a nice person, it's hard to try to profit at someone else's misfortune. Wonder what they do with all the plywood when this all blows over and life returns to normal. Surely it will eventually return to normal?
Would Republicans go out and riot if Biden wins? Have they ever?
This Is Not An Example of The Right to Peaceably Assemble
June 2, 2020, 10:54 pm
Filed under:
Crime
,
Domestic Policy
,
Law
,
National Security
,
Police
,
Politics
,
Progressives
,
The Constitution
,
The United States
| Tags:
Antifa
,
George Floyd
,
President Trump
,
Riots
AMENDMENTS TO THE CONSTITUTION OF
THE UNITED STATES OF AMERICA
AMENDMENT 1.
Congress shall make no law respecting an establishment of religion, or prohibiting the free exercise thereof; or abridging the freedom of speech, or of the press, or the right of the people peaceably to assemble, and to petition the Government for a redress of grievances.
So there you go. The press has been blathering on about "peaceably assembling" for days, in spite of all the non-peaceable assembling that's been going on. But did anybody stop to consider just why those first Americans made this their very first amendment in 1791? They had just hammered our a Constitution and the delegates from the 12 original states had signed it in 1787. Only 4 years later, and they were already trying to fix it.
Lets imagine a group of people, say 15. Is that enough to include one example of every race, sex, young, middle aged and old, and rich and poor? I'm making this up as I go along. Probably need a larger bunch. Some people who are attractive, some fat, some lean. Some smart, some not so much. How many variables can you squeeze in a small number of people to fairly represent the larger whole? And can they possibly get along? How many of them would insist on being in charge? Doing it their way? What was so wrong before they gathered together that they had to try to fix it? And did their solutions work? Of course not. Is there no limit to what people will do because they want to be in charge, to control.
Instapundit posted a long series of very short videos assembled under the title "streamable". I cannot link to it directly, but go to the link at Instapundit and scroll down, past "Chicago, looting off a moving train" stop briefly and watch that one, then on down to the beginning of the "streamables." Take your pick, but watch several if you can, because you have to see it to believe it. They feed off each other, getting "permission" from each other, almost celebrating the violence, escalating the violence — at last free to express their rage? or the simple need to be bad? Do what they've often felt like? That's what you call mob psychology I guess. Any assumption that all this has to do with George Floyd is absurd, although that may be what started it. The videos are an essential learning experience for those of us who would never even think of going to a protest. And you won't get physically hurt by observing online. Oddly the verbal part is just the usual 3 and 4 letter words, with lots of screams inset.
Having watched a bunch, I feel way more permanently informed. Calling out the National Guard or the military to put a stop to it is fine with me. In spite of reporters trying to blame President Trump,  he's the only one effectively trying to stop it, to save communities and return the nation to sanity. It's mixed up in the public mind with opening the economy or not opening the closed economy, whether that will kill more people. Not much clear thinking going on out there.
Fueling Famine: The Biofuel Disaster!
April 9, 2008, 11:05 pm
Filed under:
Domestic Policy
,
Economy
,
Environment
,
News
,
Politics
,
Science/Technology
| Tags:
Biofuel
,
Debunking Liberal Lies
,
Do Goodery
,
Environment
,
Environmentalism
,
Environmentalism Kills
,
Food Shortages
,
Global Warming
,
liberalism
,
Liberalism Kills
,
Riots
We have warned about the dangers of subsidizing ethanol production. We have spoken of food riots in Mexico, and Egypt and Vietnam. Orangutans are being killed in Indonesia to make way for palm-oil plantations to feed Europe's demand for biofuel. In Haiti, five people were killed in protests last week over a 50% rise in the price of food staples in the past year. People are going hungry.
Inflated corn prices encourage farmers to divert more acreage to corn which means they plant less soy and wheat, which drives up the price of those commodities. According to the Washington Times, the aggregate price of wheat, corn, soy oil and soy meal in the U.S. will be $61.7 billion higher in the 2007-2008 crop year than it was in 2005-2006.
Our Congress is promoting famine in the third world because they can't be bothered to seriously study what they are doing with their subsidies.
If famine and hunger and food riots will not move people to action (and millions of deaths from malaria didn't seem to bother anyone enough to authorize the use of DDT), there is some news that may spur action.
Drought conditions in parts of Australia and New Zealand where malting barley is grown may mean that Beer will be in short supply, may be more expensive, and may taste different. In the US, hops will be in short supply due to fungus problems, or perhaps to more land being turned over to grain production. Perhaps a shortage of beer will spur letters to Congress.